RADWIN WireLess Broadband Products
RADWIN is a provider of innovative broadband wireless solutions for service providers and enterprises. With competitive prices, outstanding performance and the unique ability to support TDM and Ethernet over one platform, RADWIN's solutions deliver a winning business proposition by reducing capital expenditures, increasing revenue streams and ensuring reliable performance in a short time.
Operating in the unlicensed and licensed spectrum bands, RADWIN's industry-leading products provide a variety of applications including multi-site connectivity, broadband access and backhauling. To date, RADWIN's products are deployed at customer sites in more than 50 countries worldwide.
Founded in 1997, RADWIN is a member of the RAD Group, a world leader in data communications. With a worldwide distribution network, strong global alliances, and field-proven products, RADWIN meets customers' current and future needs at an extremely affordable price.
WinLink™ 1000

WinLink™ 1000 products are carrier-class, high capacity and extremely competitive point-to-point solutions. Packing legacy TDM and Ethernet services over 2.3-2.4GHz and 4.9-5.9GHz spectrum bands, the WinLink 1000 products are suitable for deployment in FCC and ETSI regulated countries.
WinLink™ 1000 products provide high capacity connectivity of up to 48 Mbps, high range of up to 80km/50 mi, and rapid deployment of E1/T1s and Ethernet links at a fraction of the cost of leased lines or fiber
WinLink™ 1000 efficiently addresses service providers and private networks requiring immediate deployment of solutions for applications such as: multi-site connectivity, broadband access and backhauling. Available at multiple frequency bands and at various configurations, all WinLink™ 1000 products are highly robust, simple to install and extremely competitive
.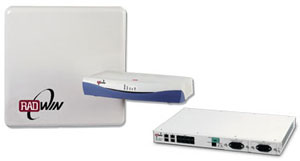 WinLink™ 1000 Access
&nbspWinLink™ 1000 Access offers carrier-class wireless Ethernet access at the most competitive price in the market. Based on the industry-leading WinLink™ 1000 platform, WinLink™ 1000 Access provides guaranteed full duplex 2 Mbps symmetrical Ethernet connectivity at a range of up to 20 Km, even in interference-ridden environments. WinLink™ 1000 Access is especially designed for multi-point-to-point topologies, enabling operators to provide a dedicated channel and guaranteed bandwidth to their customers.
WinLink™ 1000 Access comes with a unique Hub Site Synchronization feature that enables installation of multiple WinLink™ 1000 Access units at the same site. This feature synchronizes the transmission of collocated Winlink™ 1000 radios, dramatically reducing mutual interference commonly experienced with collocated TDD radios.
WinLink™ 1000 Access also includes an advanced User Capacity Management functionality that gives unmatched flexibility in user bandwidth allocation and flexible service pricing.