Motorola GM3689 Radio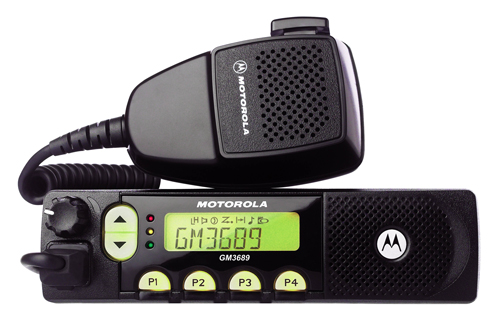 The GM3689 two-way radio comfortably meets the level of reliability and clarity needed for industries like Taxis and Courier services. The rugged build quality, characteristic to all Motorola mobiles, means they are apt for Construction and Manufacturing activities too. Advanced features such as PTT-ID, Emergency and Lone Worker capabilities are possible with these Select V mobiles. Furthermore, your investment is protected, as the GM3689 is compatible with the existing range of accessories. Ideal when you need:
• The GM3689 can be used as a Radio Frequency (RF) pipe for integrated solutions such as Automatic Vehicle Locator Systems (AVL) and Telemetry. A host of devices can be connected via the mobile's 16-pin external port, to offer a multitude of solutions.
• Allows remote tracking of your vehicle's location using the Global Positioning System (GPS) and integrated software. This ensures a more efficient utilisation of the fleet, dynamic planning of delivery routes and estimation of arrival time, thereby resulting in better customer service and profitability.
• Enables remote real-time monitoring of environmental conditions or equipment parameters. Together with integrated hardware and software solutions, the mobiles can be used for remote monitoring of water levels in inaccessible areas, or to track key operational/ process parameters to ensure the safety of plant workers.

Each Motorola GM3689 radio set comes with:
Standard Microphone

Mounting Kit

Power Cable

Motorola GM3689 radio available in Freuqncy bands as shown under:
AZM50FNF9AN2 GM3689 Mobile, VHF (146 - 174 MHZ) 100 channels, 25W, standard Mic

AZM50RNF9AN2 GM3689 Mobile, UHF (438 - 470 MHZ) 100 channels, 25W, standard Mic