Motorola GP338 Radio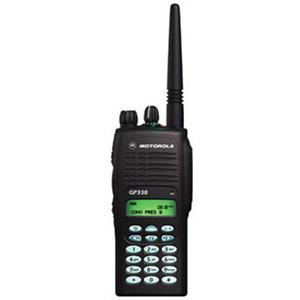 The GP338 is essential for growing organisations because of its unique versatility. When necessary, the radio can easily be programmed in the field to add or delete features. So, whether it's the harsh environment of a construction site or the posh elegance of an exclusive hotel, the radio of choice is the GP338. It's the radio that grows with you. Ideal when you need:
• MDC1200 Signalling.
• Maximum of 128 channels to organise work groups with ease and efficiency.
• 14-Character Alpha Numeric Dot-Matrix Display.
• To communicate frequently with multiple work groups.
• A rugged radio to perform under harsh outdoor condition.
• To communicate in a high-noise environment.
• To coordinate law enforcement and emergency.
• Constant up-to-the-minute information.

Each Motorola GP338 radio set comes with:
Antenna

Battery

Belt-Clip

Rapid Charger with Adaptor

Motorola GP338 radio available in Freuqncy bands as shown under:
AZH25KDH9AA6 GP338 Portable, VHF (136 - 174 MHZ) 128 channels, 5W, with keypad

AZH25RDH9AA6 GP338 Portable, UHF (403 - 470 MHZ) 128 channels, 4W, with keypad

AZH25SDH9AA6 GP338 Portable, UHF (450 - 520 MHZ) 128 channels, 4W, with keypad