Motorola GP329 Radio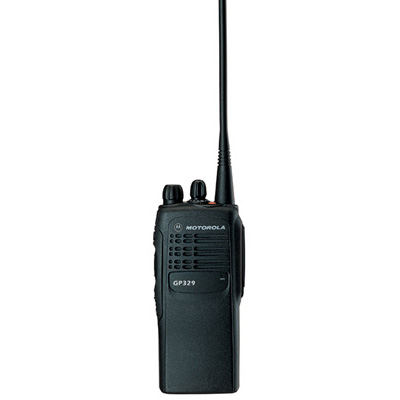 The GP329 radio offers a practical two-way radio solution for professionals who need a rugged, reliable radio to stay in contact. Equipped with user-friendly features and intuitive programmable buttons for easy navigation, the GP329 increases productivity by streamlining your radio use and enabling you to concentrate on the job at hand. With X-PAND™, the GP329 assures you of crisp, clear audio quality even in the noisiest conditions. It also offers 16 channels in addition to a basic array of signalling capabilities. With adjustable power levels, you always have control over your radio usage. Moreover, with an LED indicator and an alert to notify you when your battery power is running low, you'll never be caught with dead air, especially during missioncritical situations or emergencies.
• The radio software encompasses Private Line and 5- tone Selective signalling..
• Maximum of 16 channels to organise work groups with ease and efficiency.
• For early warning on low battery strength, the GP329 is equipped with a tri-colour LED battery gauge.

Each Motorola GP329 radio set comes with:
Antenna

Battery

Belt-Clip

Rapid Charger with Adaptor

Motorola GP329 radio available in Freuqncy bands as shown under:
AZH25KDC9AN3 GP329 Portable, VHF (136 - 174 MHZ) 16 channels, 5W, no keypad

AZH25RDC9AN3 GP329 Portable, UHF (403 - 470 MHZ) 16 channels, 4W, no keypad

AZH25SDC9AN3 GP329 Portable, UHF (450 - 520 MHZ) 16 channels, 4W, no keypad